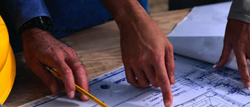 When you design homes and buildings for a living, it is vital to have knowledge of the best techniques and materials available, so you know what kind of stress and pressures your designs can bear.
When it comes to insulation, you'll be hard-pressed to find a more suitable material than cellulose.
Cellulose not only provides the greatest thermal and sound insulation per inch, but it also gives you greater flexibility in designing your structures. The fire-resistance in our cellulose insulation gives you the option of designing simpler and less costly firewalls. It allows for less space between electrical outlets, which opens up more aesthetic possibilities for a designer.
Ecocel was founded in Cork 2010 by John Egan. Ecocel produces cellulose insulation by reusing paper and treating it with inorganic salts added amazingly superior resistance to fire, mould and insects, vermin and the product is bat friendly.
The result is an actual reduction of greenhouse gases because the material is carbon-negative, more carbon is locked away than is released in its manufacture, therefore it is carbon negative when installed . This puts cellulose insulation at the forefront of environmental materials. The product is multi award winning and Agrément certification cert number 07/0285 by www.nsai.ie and www.seai.ie.
B5EN 150-11925-2  BRE
Fire tests were carried out over 6 times resulting in all negative results for fire. A surface exposure test over 30 seconds with flame tips did not each over 150mm above the application point and no occurrence's of ignition of the filter paper.
Ecocel is also used in acoustic partitions where party walls and sound has an impact. It can be used in rock bars, lecture halls and homes.
It is the only insulation that is reusable beyond the lifespan of a building and has a low carbon footprint. As a result it can act as a carbon sink and help buildings achieve PASSIV Haus standard. The insulation is pumped into spaces which creates an airtight seal by trained professional installers. There are health benefits associated with using natural products, they help the building breathe and its inhabitants breathe better too.
Architects say:
When asked why choose Ecocel as an insulation product global award winning architect Marc O'Riain responded that
"health, air quality, thermal resistance and sustainability are the driving factors in the specification to ensure a building's longevity and its inhabitants. Ecocel came top of the class in all these areas for an insulation product. As an advocate for sustainability, designing low energy buildings is a speciality that is de rigueur and ahead of current standards and building regulations."
Marc O'Riain is one of Ireland's premier interior architects. Marc has completed a PhD in low energy building retrofit.
https://www.ruaarchitects.ie/projects
We give of our time and expertise by being active members in the following NGOS:
Green Building Council
Passive House Assoc
Cork Environmental Forum.

Ecocel is a member of Irish Green Building Council , Passive House Assoc of Ireland and the Cork Environmental Forum