Ecocel is the first Irish Cellulose Insulation product to be awarded the Guaranteed Irish Logo. So not only is Ireland's warmest, safest, natural fibre insulation made in Ireland, Ecocel is now Guaranteed Irish.
What is Guaranteed Irish?
Guaranteed Irish is a business membership organisation which represents over 300 home-grown and international businesses investing in Ireland. October is Guaranteed Irish Pharma Month. The Guaranteed Irish logo can be used on products, packaging and marketing materials to indicate membership of Guaranteed Irish.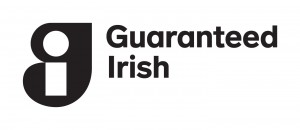 Ecocel has been in operation for 7 years, since January 2010. Sustainable manufacturing plays a big role in what we do. We are committed to a code of best practice in all aspects of our business, including our relationship with and effect on the environment and also the communities that we help save energy with our cellulose fibre insulation.
We believe it is our responsibility to be constantly monitoring our business methods to make sure that our environmental impact is as low as possible. Ecocel is the only Irish made cellulose and is the first to receive the prestigious GI logo.
Ecocel has more than one purpose, it is not just an insulation product used to keep you warm and toasty in your building. This cellulose natural fibre can also used in acoustic partitions where party walls and sound has an impact. It can be used in rock bars, lecture halls and homes in improve sound insulation. The insulation is pumped into spaces which creates an airtight seal and it is installed by trained professional installers.
It is the only insulation that is reusable beyond the lifespan of a building and has a low carbon footprint. As a result it can act as a carbon sink and help buildings achieve PASSIV Haus standard.
There are health benefits associated with using natural products, they help the building breathe and its inhabitants breathe better too. In terms of nature conservation it is the only suitable product if you have bats, a protected species, in your attic or property.
Our product is good for everyone, the home or property owner, the environment, community and staff working with it.
The Irish Construction Sector recognises the benefits of Ecocel as the only insulation that is reusable beyond the lifespan of a building and has a low carbon footprint.
Ecocel is now Guaranteed Irish
Sustainability is key in construction and we need to educate all supply chains to consider the environment in all purchasing decisions.
We must ensure that we all build for the future, so spread the word, share the news that Ecocel is not just good for our health and homes, bats and businesses, it is now also Guaranteed Irish.